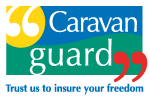 At Diamond Caravans we make your new purchase as streamline a process as possible.
We have carefully selected Caravanguard as our preferred Insurance partner and can forward your new caravan details to them to arrange a callback quote at your convenience and at a discounted rate.
Caravanguard are offering our customers FREE 10 day insurance cover for your convenience in conjunction with your quote allowing you to tow away in complete confident without fuss!!
You dont have to buy your caravan from us to get a quote from Caravanguard at our Dealer preferred rate just click on the logo and get started !!